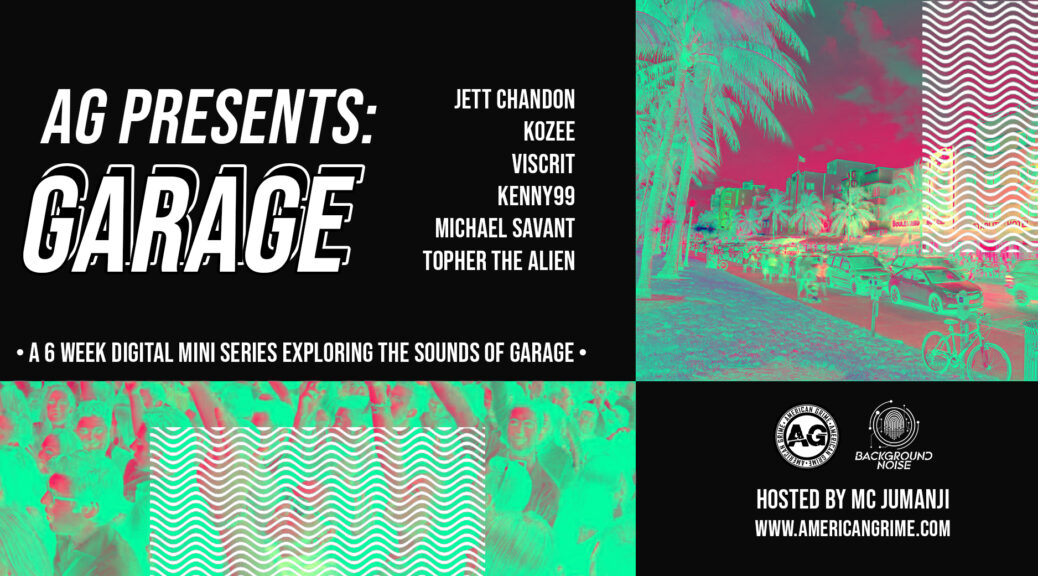 AG Presents: Garage – Michael Savant
AG Presents: Garage – Michael Savant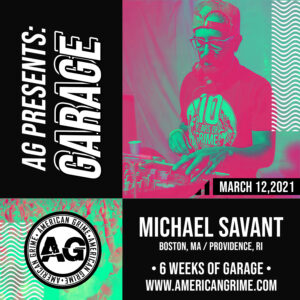 American Grime Amplifies the Art & Sound of Garage Through Six-Week Podcast Series
By Jimmy O'Hara & Sarah Styles
It's spring 1993. You're shuffling through an intimate family of like-minded music lovers filling a dimly-lit warehouse, tucked cozily away within the streets of London. A percussive, breakbeat rhythm pulses through the dance floor. Momentum from the soundscape's peculiar pattern gently rattles your bones. The iconic genre that has you grooving from dusk to dawn? UK garage.
The grandparent genre to most modern bass music from dubstep to grime, UK garage (UKG) emerged in England during the early-mid '90s. Garage fuses styles that were prominent throughout the '80s, ranging from jungle to dance-pop and R&B. A more introverted cousin of house, garage music makes heavy use of syncopation. This turbulent technique traces back to the Mozart era. It comprises a multilayered variety of rhythms, disrupting the regular flow your brain expects to hear. Similar sounds float across a minimum of two separate time intervals, leaving you in a striking state of curiosity and awe.
UKG gave rise to multiple subgenres, ranging from late '90s 2-step to the bassline and grime music of the early '00s. Despite garage's gradual dispersion from the limelight in recent decades, groups like American Grime (AG) are committed to keeping the genre's soul alive.
AG champions various forms of grime while giving ode to its garage-driven stylistic and cultural origins. The internationally-acclaimed collective is launching a six-week podcast sequence, AG Presents: Garage, to amplify the historical significance and ongoing evolution of garage.
Throughout this mini-series, you'll explore six guest-mixes curated by a carefully selected crew of modern-day garage artists.
"Garage's influence on grime is undeniable," explains Michael Savant, the first artist featured in the series. "My path to grime was through a mixture of garage and UK bass music, so I've always had love for UK garage."
Emphasizing the genres' rich history while infusing his personal taste, Michael has prepared a 30-minute mix dedicated to properly showcasing the world of Garage. True to the nature of the tunes, Michael begins his mix by illustrating the gritty nature of this unapologetic genre. Hinting at garage's signature divide between Hip-Hop and R&B the audio arrangements and vocal expressions presented in this style convey raw emotion, character, and finesse from the creator. The mix's array of musical diversity breathes life into the ear's of listeners as this urban inception has the ability to be translatable to the masses. Savant captures this unique freeform ingenuity, sweeping you across seamless transitions while effortlessly animating our spirit.
UKG provides a platform for an array of artists to experiment and grow without conforming to a distinctive sound. UKG has a wondrous way of rendering wealth and capital obsolete: It imagines a welcoming space for everyone. The genre is rooting in nature, resting on a foundation of forward movement. Previously known for its intentions to provide 'peace and love,' it has transformed into a wide range of emotional rhythms ranging from dark to light.
"Musical genres never truly die. They transform, they build upon one another, they may fall into obscurity and disuse, but they never actually die." – Unknown
Honoring every phase of this genre's evolution, Savant revitalizes bygone times and the good ol' days, featuring tracks from names like Porchy, MoreNight, Pavv, AJ Tracey, Distro, TQD, Fork & Knife, Wiley and more. Each selection stands out, whether you're sweating your way through a crowded club, blasting pirate radio, or enjoying a custom sound system in an intimate setting.
"I'm from the era of the disk and cassettes I can do grime, pop, and trap, I'm a vet 'Cause I don't really care, so please don't be upset." – Porchy
Michael has gained extensive experience throughout his career in music, which he showcases through the synergy of his multilayered tones. This half-hour arrangement provides listeners with an edgier take on soulful renditions of popular influences spanning decades of differentiating musical eras. The mix's impact is clear: UKG illuminates the interconnected relationship between individuals and their broader communities. And that's a wrap on week one of AG Presents: Garage.
Stay tuned for the second guest-mix in American Grime's podcast scheduled for release Friday, March 19 featuring Topher the Alien.
Each week, be sure to travel back to our Background Noise newsroom for commentary and more. Throughout this six-week journey, our editorial team will cover each installment, exploring the complex and nostalgic sounds of garage music right along with you.