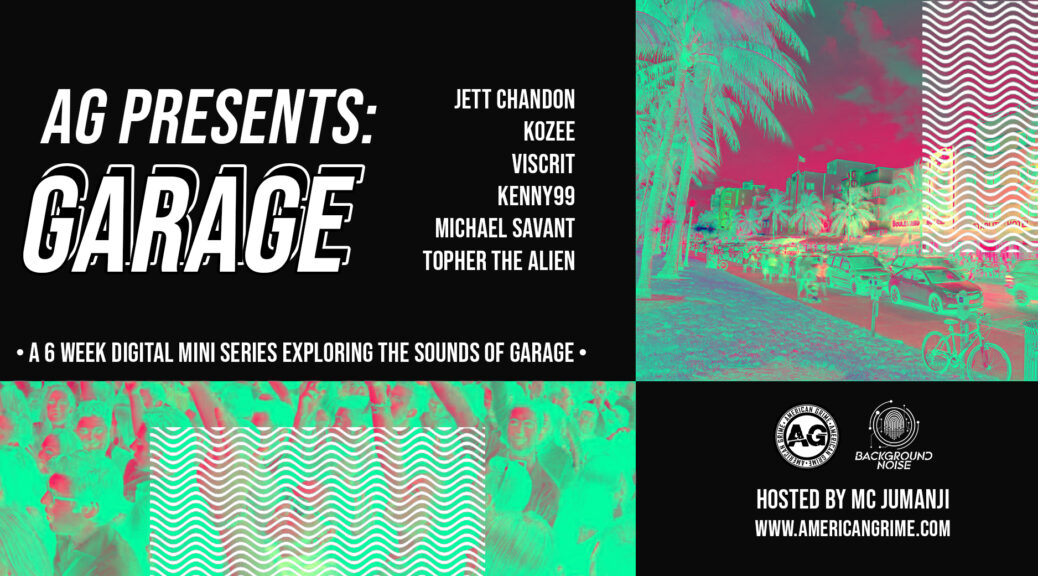 AG Presents: Garage – Viscrit
AG Presents: Garage – Viscrit
VISCRIT REVISITS HISTORY IN MERE MINUTES THROUGH MIX FILLED WITH SWINGS & BREAKS
By Jimmy O'Hara & Sarah Styles
When you think of garage music, the UK might come to mind. However, the house enthusiasts of Chicago and New York City derived the origins of garage a handful of years before its transatlantic introduction to UK club culture. These two U.S. urban centers are where garage's life began.
The mid '80s marked a revolution in Chicago's electronic culture. Audio engineers invented the sounds of early house by experimenting with disco samples. Artists native to New York caught wind of the movement and added their signature soulful flare. During garage's golden era in the early '90s, garage tunes regularly topped international charts. Despite the genre's subsequent dissolution from the limelight, it stays alive through its descendants.
"The earliest garage sounds quickly spread to the UK, where it transformed into many of our favorite genres today. Grime, dubstep, and UK funky all began as experiments by producers using the B-sides of their garage records," says Victor Princiotta aka Viscrit, whose mix marks the third installment in American Grime (AG)'s ongoing mini-series AG Presents: Garage. "It's hard to think of styles that so succinctly instill their own roots while simultaneously extending into the future."
Few electronic genres link older and newer styles in quite the same way garage manages to do. When you map garage music's family tree, dots may instantly connect. You'll find its parents are house and R&B, its grandparents are disco and soul, and its offspring are modern favorites in dubstep and grime. However, when you trace its cousins, peculiarly horizontal patterns unfold.
"One of the greatest things about garage is it's not only a parent to many genres– it also has many of its own subgenres: speed garage, bassline, 2-step, future garage," says Viscrit, who strives to include these in his AG guest-mix.
As a lifelong music lover, Viscrit's personal history ranges from punk and hardcore scenes to more niche interests like industrial and noise. Social dancing has long remained at the core of Viscrit's passion for music culture, ultimately cultivating his transition from mosh pits to turntables.
"I started to desire a different kind of social dance, so I got involved with clubs and raving. Garage was the first electronic genre I was exposed to, and it alone inspired me to start DJing," explains Viscrit, a Miami resident.
Drawing influences from dons like DJ Zinc, Club Asylum, Agent X, and DJ EZ, Viscrit has gradually developed a distinct sound of his own. In this week's mix, Viscrit's love for garage shines through. He hopes listeners unfamiliar with garage give the legendary genre the chance it deserves.
"Garage remains fairly popular in some parts of the world, but for some reason, it doesn't attract or maintain much love here in Miami. My hope is that my hometown might develop more of a taste for it," says Viscrit. "While my taste spans many sounds, I've never lost my love for garage."
Honoring garage's signature uptempo, syncopated sound, Viscrit features a blend of dance- pop vocals and rhythmic patterns which encourage movement and showcase flair. Throughout the mix, vocal overlays direct a flow of energy that captivates and compels listeners through each transition, narrating the mood for each selection. These soulful refrains are an extremely effective technique for revitalizing covers, remixes, or an original project. Viscrit reconstructs choral assets, transforming them into staccatos and melodies. Presenting a common characteristic of garage while maintaining creative control over the vocal illustration, Viscrit's skips and swings are sure to command your eardrum's attention.
Each sound – beats, loops, baselines, samples. or vocals – is carefully arranged to create seamless synergy. The funky, rolling rhythm inherent to this genre presents itself in a mysteriously house-like manner, but quickly demonstrates its allegiance to garage especially with its inclusion of hi-hats and drums. Viscrit sculpts spaces in the frequency spectrum for each part to take shape, acknowledging the complexity of each track. He makes a variety of sound sources accessible within a 30-minute span, carefully curating a unique vibe for listeners to embrace. Viscrits's ability to find these sweet spots helps express the heart of the piece while hinting at his introspective inner world.
Understanding instrumentality, music theory, and vocal frequency is essential to optimal electronic production, and Viscrit demonstrates he's up to speed. Garage artists like Viscrit are equipped with skill sets that enable their listeners to navigate the deep trenches of quality sound design. This is what makes garage such a powerful genre, and Viscrit's mix so intriguing: He merges the histories of '80s & '90s dance culture to cultivate a transformative history-lesson treat.
Stay tuned for the fourth guest-mix in American Grime's podcast scheduled for release Friday, April 2, featuring Jett Chandon.
Each week, be sure to travel back to our Background Noise newsroom for commentary and more. Throughout this six-week journey, our editorial team will cover each installment, exploring the complex and nostalgic sounds of garage music right along with you.