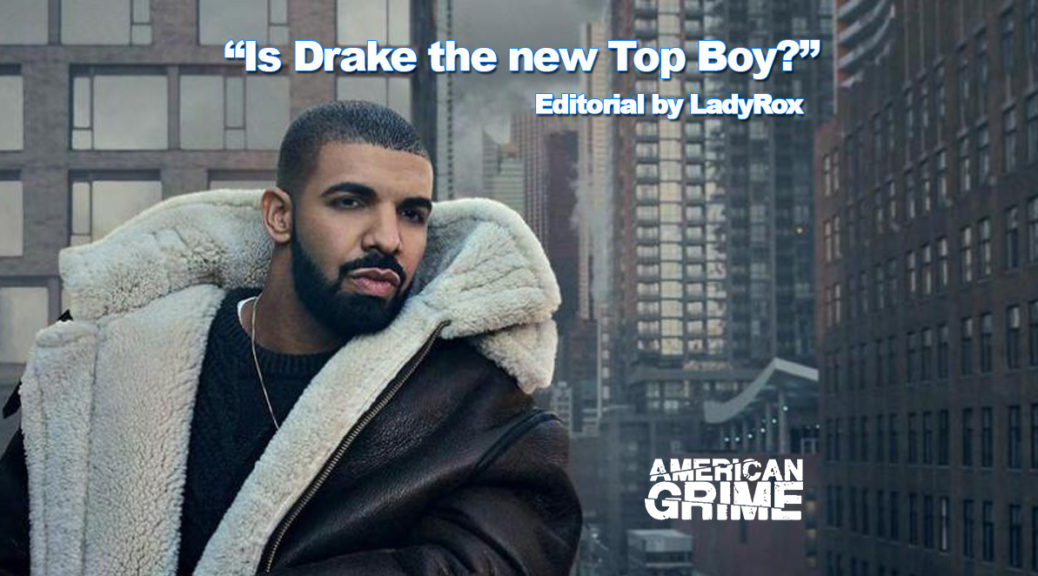 Monday Editorial: Is Drake the new Top Boy?
Monday Editorial: Is Drake the new Top Boy?
Have you ever daydreamed of moving to a new country to pursue your passion? A country for which your fire burns bright as you reignite a love for what once was? Rumor has it, that's exactly what rapper Drake is doing. Why? The three time Grammy winner will be starring in the third season of Top Boy. The UK drama has been running since 2011, outlining the struggles of young Londoners as they try to make their way to the pinnacle of gangland life. Come with me as we dive into the world of Drake's acting career, his dalliance with London, and where it will take him next.
To give you a rundown, Top Boy takes place in Hackney, London. Within the vicious (but fictitious) Summerhouse estate, drug dealers Dushane and Sully traverse the perils of crime-filled life. They move 'food' (drugs) and gain momentum through such acts to become top dons of the game. Dushane is played by Ashley Walters (former member of So Solid Crew) and Sully is played by, none other than, Kane 'Kano' Robinson. The first season entails the aforementioned hardships of thug life, and the choices they must make in order to maintain elite ranks of this risky business. The second season opens up with a fatal mistake, a cliffhanger that abruptly ended the first season. In a disastrous turn of events, two friends turn into foes. Also, pregnant Heather (played by Kierston Wareing) tries to use her cash crop of chronic to propel her unborn child into a better world. And other new characters try to find their way in wild world of East London. The show was cancelled on Channel 4, but there is definitely a third season BECAUSE the rights of the show were purchased by Drake himself.
In order to understand Drizzy's journey and his ties to Top Boy, we must start from the humble beginning. Drake isn't new to the big screen, especially TV dramas. He attended Forest Hill Collegiate Institute (FHCI), a high school in Toronto, Ontario. He lived with his mother and grandma, even sometimes took care of his mother when she was sick. In FHCI, the father of a classmate said, "If there's anyone in the class that makes you laugh, have them audition for me." As luck would have it, the father just so happened to be a talent agent. After his audition, this agent became Drake's manager.
Shortly thereafter, Drake landed the role of Jimmy Brooks on Degrassi: The Next Generation. His character was a basketball player with a claim to fame until another classmate fired a bullet, hitting Jimmy by mistake, paralyzing him from the waist down. Many can recall Drake's character always having a sunny disposition, despite the crippling circumstances he was dealt. "Wheelchair Jimmy" (his moniker after he became a paraplegic) was easily the most lovable character in this teenage drama. Being on the show for seven years, he quickly rose to fame, receiving a Young Artist Award from the Young Artist Foundation in 2002.
Drizzy has always been a music fanatic, though it wasn't until 2008 that he really began to pour his heart and soul into his mixtapes. This, and releasing hot studio hits later, secured the No. 2 spot on Billboard's Hot 100. He would stay up until 4 a.m. in the studio and then be up at 9 a.m. for dress rehearsal. Degrassi gave him an ultimatum, and he chose his love for music. In 2009, he received a phone call from Lil Wayne to join his tour. Shortly after, he was signed to Weezy's label: Young Money Entertainment.
While building momentum in the States, the next three years were chock-full of hit singles and international tours. Worthy of noting, Drake's first tour in London was in 2012. In 2013, he focused more on touring North America, but revisited London again from 2014 through 2017. You can find an outpouring of love and adoration for London rappers and grime artists alike on Champagne Papi's Twitter. In 2012, he discovered artist Sneakbo, and was in disbelief of, "the pockets he was finding and the consistency of his flows." Between the close companionship of Skepta (with whom he and Wizkid collaborated the track Ojuelegba), being the first Jewish African- American to be signed to Skepta's label (Boy Better Know), a lifelong tribute of BBK ink, and partying with Section Boyz, his unabashed respect grew exponentially. (Side note, the list of Drake's lyrical homage to the British capital goes on and on).
Let's revisit to when I mentioned Ashley Walters as a former member of So Solid Crew? This Crew produced UK garage, grime and hip hop music. So, it comes as no surprise, that Drake would give a Twitter shout-out to Walters about his role in Top Boy. Drake's disappointment was apparent when the show was cancelled. His reverence and admiration for all things London goes deeper than Mariana's Trench. Posting a picture of Dushane (played by Walters) back in 2014, led to the two sending words of veneration back and forth via Tweets. Rumors began buzzing and speculation was all a dither as viewers and listeners alike wondered if Top Boy was being resurrected. Then, in 2015, Walters announced Drake was hungry to start feeding the fans with a collaboration between the two on the third season of Top Boy.
Speculation among critics suggests that the fictional Summerhouse Estates is not like Hackney. There are hardly any police in the show up until the end of the second season and neighborhood kids run amok, building their empire. Almost as if the carefully crafted puzzle pieces don't fit. It would stand to reason that somewhere, in the vast universe of faultfinders, somebody is wondering if Drake really fits in a show that's outside of his culture. There was some shade thrown Drake when he dropped his new album More Life featuring UK artist Giggs. There are some who think that Drake is a beg (wanna-be) of the London music scene. It gets rough in the world of keyboard warriors. Drake buying the rights of the show could also cause controversy too, as if that could be the sole reason for landing a role on the show. Not having a passport may have something to do with it but honestly, I'm not certain we'll ever know.
As a final point, not only did he buy the rights to show, but the cast and crew are currently working on a major role for Drake. The Young Money superstar attributes large parts of his success to London rap music and he'll be relocating across the pond for filming. The ties that bind Toronto and London are so deep rooted…extending from their native speak to music and beyond. It's no wonder, Drizzy Drake wants to profess his love from the rooftops. He's still waiting on his British passport, but that doesn't stand in his way of conquering the world, one act at a time.
Article by LadyRox