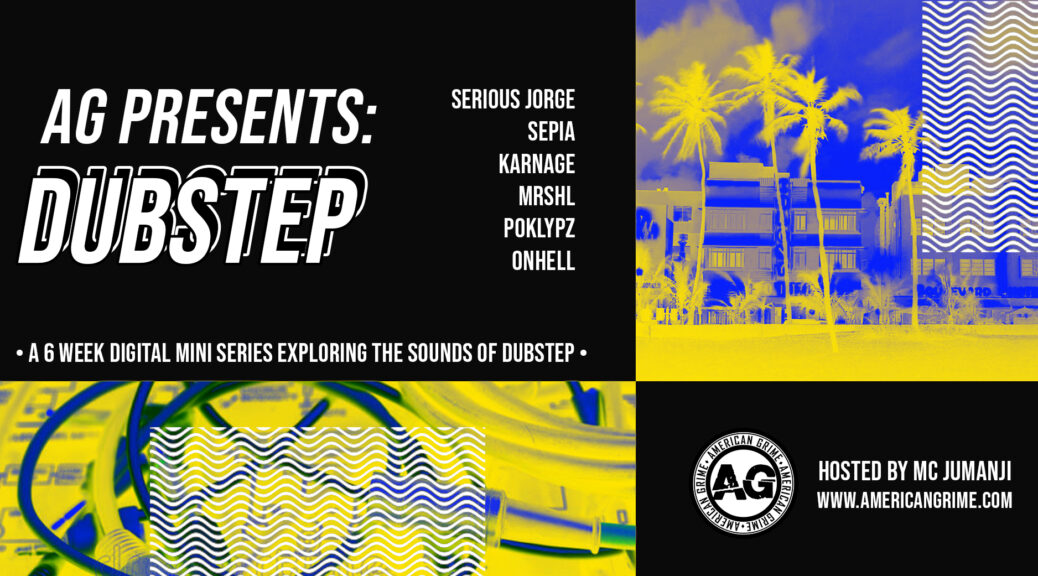 AG Presents: Dubstep – Onhell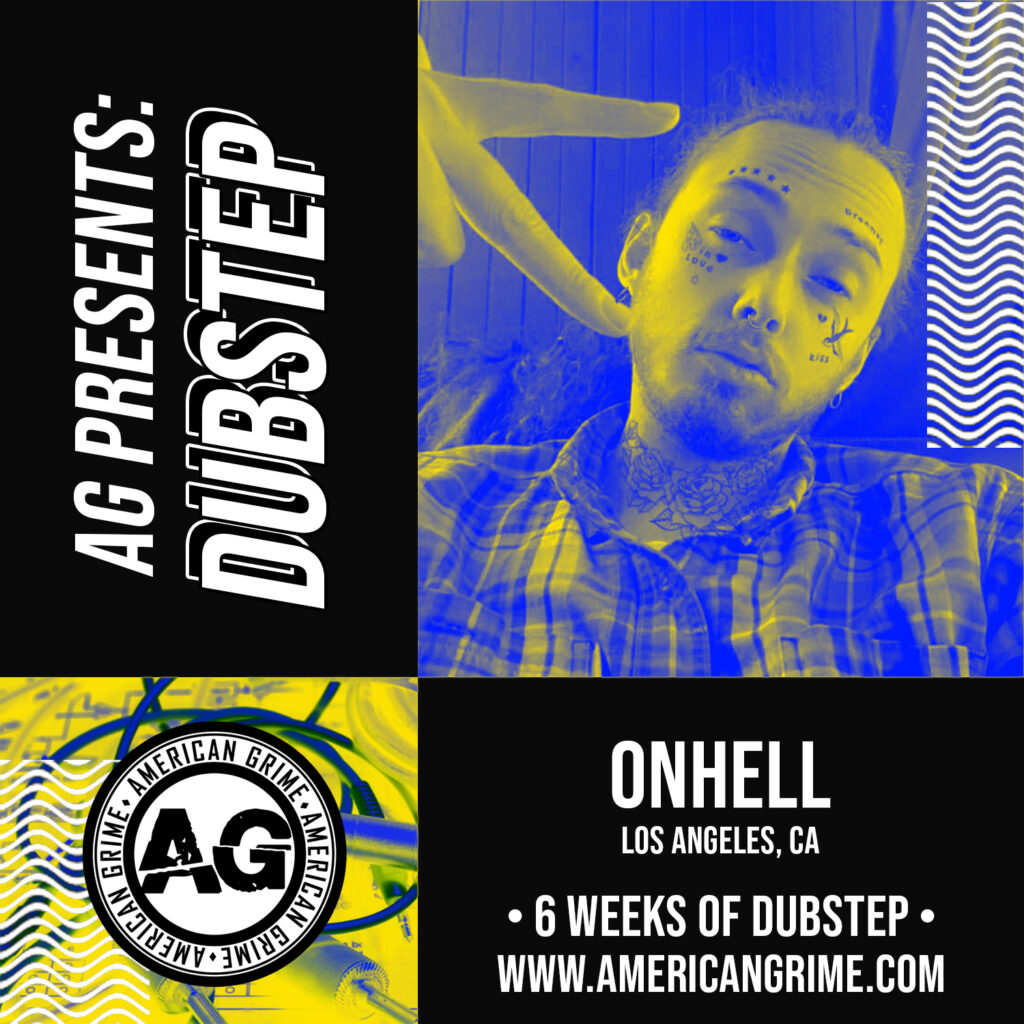 Movements, Memories & Momentum in Music: Onhell Concludes AG Dubstep Series with Masterfully Multilayered Guestmix

By Jimmy O'Hara
Dubstep shows are light-years beyond mere dance parties; they're multi-sensory, three-dimensional history lessons that celebrate the genre's roots in Black culture on U.S. soil. One of dubstep's grandparents is '80s house music, which was birthed by '70s disco, whose mother was '60s soul. This lineage links today's beloved bass tunes to earlier genres, ranging from '50s rock 'n' roll and mid- 20th-century rhythm & blues to 1890s boogie-woogie and 18th-century folk spirituals.
Tracing this family tree matters because bass music — and the expansive creativity of its producers — has never existed in a vacuum. Electronic music and social movements are deeply intertwined. Many forms of music originating in Black communities arose as an intentional, liberatory, community-building response to structural oppression. At its core, dubstep is resistance and solidarity working together to decorate spacetime.
The interconnected, transformative nature of soundsystem music is evident in dubstep's multilayered and versatile range of influences. Through a curious and critical lens, approaching dubstep with nuanced appreciation and delicate care becomes a bold act of deliberate courage. It is this understanding that underpins American Grime (AG) Presents: Dubstep, a podcast mini-series challenging listeners to dive deeper beyond the dubplates, dancefloors and disco balls.
"Dubstep originated from Black music," says Onhell, a California-based producer. "All the best music originates from Black culture."
Onhell's artistic appreciation for music originating within Black communities is evident throughout his growing discography. In addition to creating original tracks, he remixes hidden and lesser-known gems from many of today's renowned rappers and hip-hop artists, spanning 21 Savage and Yo Gotti to SZA and Gucci Mane. He's particularly proud to perform for — and stand alongside — an expanding community of dubstep-lovers who reflect the collective beauty of human diversity.
"The community of dubsteppers is funny. It's diversifying with more women, LGBTQ+ and people of color," says Onhell.
Marginalized groups have always existed in electronic spaces, but are beginning to gain equitable representation and access to industry opportunities both on-stage and behind the scenes. AG and Background Noise partnered for this podcast project to elevate the movement toward bringing historically excluded talent into the fold.
"This makes me super happy," says Onhell. "Dubstep is for everyone and full of love."
Flavoring his bassline-heavy sound designs with low-end wavelengths and west coast wobbles, Onhell's obtuse range is the optimal choice to conclude AG's six-part series. His personal creative process is entirely unique, reflecting how he experiences his personality. Onhell describes this workflow as his visions shattering into virtually infinite pieces. Once his ideas split apart, Onhell puzzles his mental and emotional elements back together, giving extraterrestrial form to the externally invisible.
"I feel very split in my personality. Musically, in every way, I feel split — and not just in half, but in a million different pieces. It's my job to split those differences into one being," explains Onhell. "It's not easy. But when it works, it feels amazing."
The sixth and final installment in AG Presents: Dubstep, this week's episode feat. Onhell splits listeners' eardrums into a nebulous array of nutritious bass arrangements. Onhell was invited to participate by the beloved MC Jumanji, a legendary wordsmith and champion of grime known for carefully curating and narrating distinct dubstep functions.
In other words: Onhell — and all artists featured in AG's garage and dubstep series — were each chosen to represent these genres for a reason. And within ten minutes of tuning in, listeners are bound to uncover why.
"MC Jumanji asked me to make a mix for his dubstep series," says Onhell. "I respect him and appreciate what he's doing for grime in the U.S., so naturally I had to do it."
Audio-Analysis
Onhell's half-hour journey begins with a raunchy, sewery raucous of sounds. The mix's fast-paced rhythm finds minimal pause, creating an on-the-go atmosphere that accelerates those along for the ride. Paying tribute to the art of emceeing, Onhell incorporates clever voice-overs that guide the mischievous musical adventure. If mixes could drive, this one would outspeed opponents in high-risk highway races on the regular.
As the nostalgic-yet-modern sequence unfolds, Onhell opts for the notably witty and peculiar sounds of mid-2000s dubstep, channeling the likes of Mala, Benga and early Skream. Around the mix's midpoint, Onhell unleashes a hypnotic soundsystem circus, steadily firing a coordinated slew of low-end ammunition in a ravishing, progressively robotic fashion. This thirty-one minute masterpiece showcases a thoughtfully eclectic assembly-line of mechanically-sound, boiling-hot tunes, all while hinting at dubstep's legacy of roots in Black communities and lived experiences. 
The result: An instant favorite, reliable for kickbacks and afters, suitable for new students of soundsystem tunes, and flexible enough for campsites and solo nights in.

Infographic source:Dr. Portia K. Maultsby, Professor Emerita in the Department of Ethnomusicology at the Indiana University Bloomginton College of Arts + Sciences; infographic revised 2005.