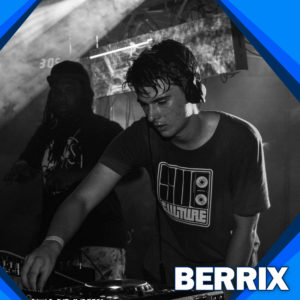 Dubstep artist from Belgium, Berrix aka Vincent Bercx is most known for his dj abilities & mixdowns, forging the way with his controversial technical style. "Berrix produces all sorts of Dubstep that wobbles & womps through your body, making you dance whether you want to or not."
Vincent experienced his first love for dubstep around 2007-2008 and only started making dubstep himself in 2014, taking all sorts of styles along the way with him but keeping the hard hitting dancefloor destruction sound as his personal favorite.
With releases on: Savage Society Records, Full Flex Audio, Blacklight Audio, Bewildered & Dub Selection, he has been getting overall support from the likes of Shiverz, Bukez Finezt, Jakes, SubFiltronik, Styn, Akira, Kahlil, Blankface, AD, Infekt, Deemed, Le Lion, Badphaze, BloodThinnerz, Maze, Stinkahbell and many more…
Since then the phenomenon is still growing, Berrix is becoming an upcoming legend of the dubstep scene. With an incredibly loyal fan base he's is known world wide for working hard, playing hard and DJing hard on stages globally.
__________________________________