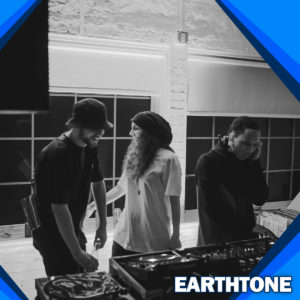 Established in 2015, The EARTHTONE family consists of an eclectic group of DJ's, Producers, and MC's, who perform as a live hip-hop act over UK influenced bass music. With an emphasis on grime, trap, bass, garage, and hip-hop, their sound bridges the gap between the roots of the US hip-hop movement and the authenticity found in the UK bass and grime scene.
EARTHTONE is known to play as a unit; DJ's Aions and Oskuro use both digital and vinyl formats, while Gi controls the microphone with her versatile flow. Their well-curated event series, dynamic live act, and distinct sound, has enabled them to play in a variety of circuits, carving their own path in music.
Their monthly event series, ON THE LOW, encapsulates the EARTHTONE essence of bass-heavy blends and live performance. By bringing out forward-thinking DJ's and live acts who are known to move a crowd with their energy, EARTHTONE blurs genre lines by creating an experience that appeals to a variety of audiences. The open-mic session at the end of each night pushes MC's and vocalists to improvise over live DJ mixes, atypical of NYC's usual cyphers.
Since coming together, EARTHTONE has striven to make an everlasting impact on New York City's thriving hip-hop and underground bass culture. Staying true to their ideology "build bridges, not walls," the multi-faceted collective has provided a platform for both local and international acts to share their artistry and talent on stage, leaving pretentiousness at the door.
Influenced by the roots of urban culture, the EARTHTONE collective seeks to promote intersectionality and tolerance through music. Like sediments that are transported over the earth and formed into layers, their sound is just that.
One Love. One Sound. Sedimentary.