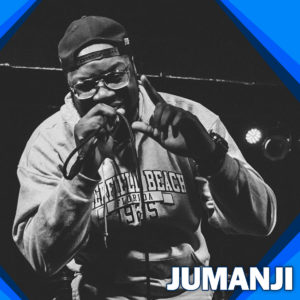 Now in his mid 30s, Calvin Cyrus, aka MC Jumanji, has co-helmed the American Grime empire alongside Manager Sergio Mendes and DJ Timbo Slice.
From Outlook Festival in Pula, Croatia, to UK Radio tours with Sir Spyro and Rudekid, back stateside to multiple shows in Denver's Black Box and New York's Webster Hall, Jumanji has found a way to evolve and thrive.
With his residency on Subtle Radio London, the AG presents podcasts and his livestreams alongside the super crew American Grime, Jumanji continues to push the envelope, bringing American fans to the UK genre and UK fans to the ways of AG.
During the pandemic, Jumanji dropped the Close Curtains EP, his aim being to mature the stateside sound and grow the fanbase.
Enjoying support from the likes of LOST, Joe Nice, Grim Sickers, 12th Planet, Day Zero, Truth and more, Jumanji looks to expand on doing live shows as a host and to MC for some of the biggest festivals around.
www.facebook.com/jumanjimusic
www.soundcloud.com/mcjumanji