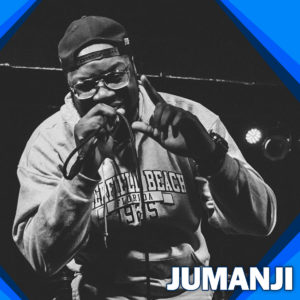 At only 30 years old, Jumanji has pushed his way to the front of the pack in bringing grime to America. Co-owner of the American Grime Records Label and Co-founder of the event 'Proper' in South Beach, Jumanji continues to do his part in uniting the stateside grime scene.
Jumanji's resume is impressive, spanning 10 years of bass music performances and recordings. He has hosted an entire festival (Moonshine Music Festival), performed at Ultra Music Festival twice, performed at Marley Fest twice and has made appearances from SMOG vs. Basshead in Miami, to SXSW in Austin, and Fabric in London.
His music has been played on KissFM by Rudekid and Rinse.fm by DJ Chefal. He's also been on Sub.FM live with LOST, Joe Nice and Compa. He has songs with Benzmixer, Shiverz, 12th Planet, Cotti and more.
With growing support from the likes of UK legends such as recording artists Foreign Beggars, grime videographer RiskyRoadz, Grime Report owner Lordie, and American powerhouse Sub.mission, Jumanji has accelerated his push of the genre, organizing several instrumental EPs comprised of Canadian and American producers.
Now, fresh off of a new EP "Not Done Yet" and a feature on the VIP remix to Foreign Beggars' single 'TOAST,' Jumanji takes aim at 2018, driven by his passion to see American Grime rise.
www.facebook.com/jumanjimusic
www.soundcloud.com/mcjumanji