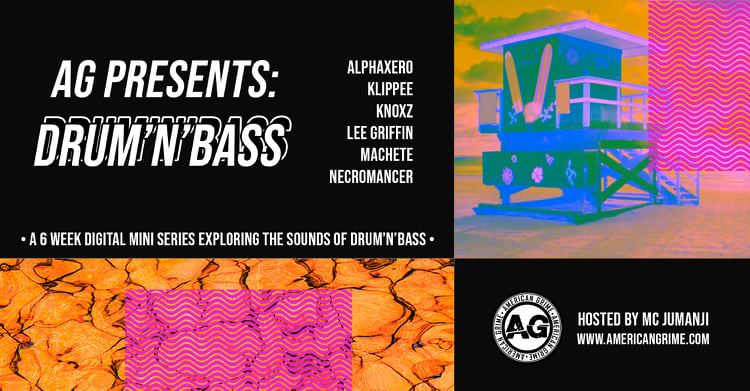 AG Presents: Drum and Bass – Machete
AG Presents: Drum and Bass – Machete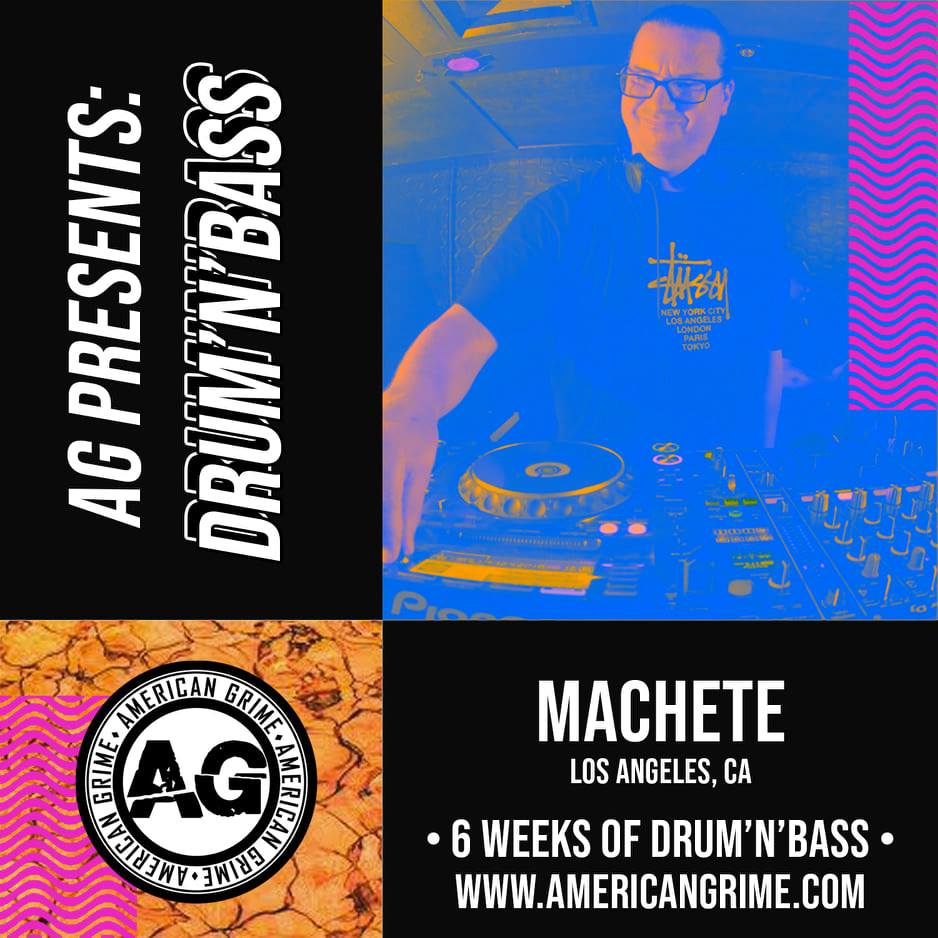 American Grime Launches New Series Dedicated to Drum N Bass, Features Three-Decade Veteran DJ Machete in First Installment

By Jimmy O'Hara
It's a chilly spring night in London, 1992. You and your posse briskly walk to the weekly breakbeat hardcore event, stirring with anticipation for the function's inevitable fusion of genres. Your regional music community is three years deep into a creative period of cross-pollination nested within the United Kingdom's (U.K.) hardcore scene. Throughout the night, you shake your tail-feather to a family of increasingly familiar sounds that have gradually gained a distinct presence in DJ setlists: dark sampling progressions rooted in dancehall and reggae; layered drum lines repurposed from classic loops; funk breakbeats paired with basslines reflective of dub and hip-hop.
You're experiencing in real-time the emergence of a fast-paced, rapid-fire, percussive, rhythmic identity of electronic music that will embed itself in the souls of sound-lovers for decades to come: Drum n Bass.
An internationally-acclaimed, career-long champion of Drum and Bass (DnB), Rob Machete aka DJ Machete is an educator, producer, event organizer and label founder widely celebrated since 1991 for revolutionizing the west coast's dance music culture. Hailing from Los Angeles (L.A.), he's harbored an intuitive knack for high-energy sounds since his early childhood. 
"I was a hip-hop -loving skater while growing up, and most of the groups I enjoyed held their DJs in high regard, such as Low Profile (DJ Aladdin) and Gangstarr (DJ Premier)," says Machete. "So when I first discovered jungle music through L.A. rave DJs playing hardcore breakbeat-techno… it was the hip-hop samples, scratching, and reggae/dub -influenced tracks that truly caught my ear."
Machete cites much of his musical inspiration originates with the works of DnB legends like L.A.'s R.A.W and DJ Hype, as well as Andy C, Shy FX, and Craze.
"When it came to DnB, all these artists really rocked my world," recalls Machete, also a fan of rock, funk, and jazz.
According to DJ Machete's brand website, the L.A. electronic scene was newly formed when he began absorbing ideas from the U.K. breakbeat-techno rising out of London and Bristol between 1989-1993. This experimental era in the hardcore breakbeat world was largely shaped by producers like Raw, Curious, and Oscar da Grouch. Such icons paved the way for Machete's pivotal, innovative maturation of the west coast's flavor of DnB into the beloved beast it is today.
"I've always felt connected to the artists who produce, play, and/or promote DnB. There's this overwhelming energy when a DJ drops a fresh new track that hits properly on the right soundsystem," says Machete. "It's that feeling I'm always striving for in the DnB space, a phenomenon I feel is unmatched by any other family of music."
It's no wonder why American Grime (AG) is featuring Machete in the first episode of their third podcast series — AG Presents: Drum n Bass. Machete has actively disc-jockeyed since the breakbeat-techno days of 1991, has organized the ongoing & world-renowned weekly RESPECT event for 22 years, has hosted a weekly radio show and live-stream series for more than 12 years, and has led his own talent agency for the past decade, just to name a few of countless milestones marked on his DnB curriculum vitae.
"I celebrate DnB every day of my life and I'm thankful to do all of this for a living," says Machete. "I am a DnB lifer, ride or die."
Beyond the scope of his multi-generational contributions to the electronic space, Machete makes clear that as with most popular music, DnB ultimately began within Black communities. Black artists pioneered a vast array of genres from disco and house to dubstep and garage — and DnB is no exception.
"I want fans of electronic music to understand that DnB is derived from Black musicians and sound designers. This fact must always be recognized and never be forgotten," says Machete. "The soul of DnB comes from Black artists and culture."
Machete hopes for his guest-mix — and AG's new podcast series — to instill a sense of intentional curiosity in listeners who may be new to the intricate and diverse world of DnB. He also hopes it will resonate with long-time veterans of the DnB realm.
"I'm all about exposing DnB to the masses," explains Machete, "… especially those who may not have heard it before, or who just want to experience the music properly from producers who have pushed the genre for most of their lives."
The half-hour, upbeat, rhythmic journey is crafted to bring a variety of DnB musicians into the fold. Machete's memorable mix features a range of L.A. talent, from well-known regional producers to up-and-coming local artists. The DnB star also showcases his renewed dedication to DJing in the wake of the COVID-19 pandemic, having levelled-up his mixing, scratching, and beat-juggling abilities to new heights. 
"This guest-mix features my favorite songs from summer 2021," says Machete. "I included many vocal-based tracks with lots of energy; the mix is for AG, after all."
Machete's guest-mix is guaranteed to catapult listeners into an adventurous six-week series that celebrates the immeasurably important and markedly meaningful past, present and future of DnB. And Machete's contagious enthusiasm ignites the collective fire that will light the way.
"I encourage all DnB enthusiasts to go out and support your local DnB artists and promoters, while practicing safety as the pandemic continues," says Machete. "As often as you possibly can, take your friends to a DnB night. Make some beautiful memories of your own."
***
Stay tuned for the second guest-mix in American Grime's podcast scheduled for release Friday, October 22 feat. Alphaxero. 
Each Friday, be sure to travel back to the Background Noise newsroom for coverage, commentary and more. Throughout this six-week journey, our editorial team will cover each episode, uncovering the complex history and endearing optimism of DnB right along with you.