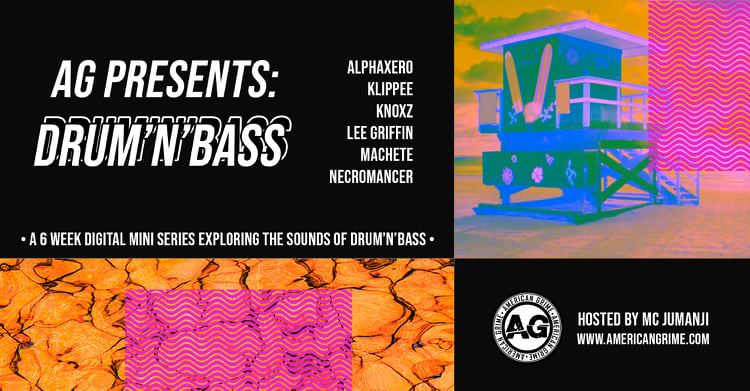 AG Presents: Drum and Bass – Necromancer
AG Presents: Drum and Bass – Necromancer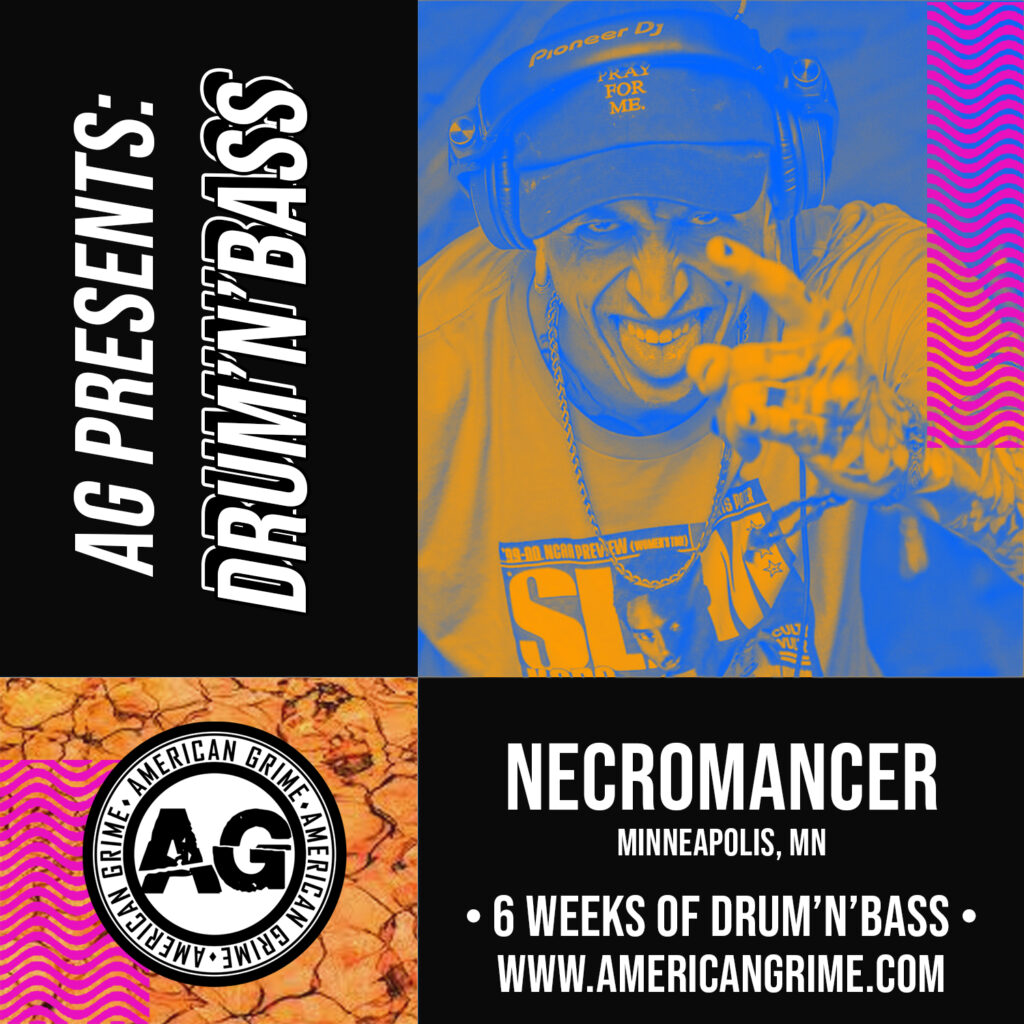 Forming DnB Futures: American Grime Features NECROMANCER in Grand Finale of DnB Podcast Series

By Jimmy O'Hara
Perhaps no form of electronic music intertwines so many genres nor influences numerous producers across time & place as the beloved Drum N Bass (DnB). From its formation within the breakbeat hardcore and ragga jungle sounds of early-mid '90s U.K. scenes to its reemergence at the turn of the 2020s, DnB's remarkable impact on electronic music spans decades.
DnB is more than a music genre, it's a social response rooted in resistance to normativity, an imaginative space for artists and listeners alike to dream collective futures. Although the legacy of DnB's past and present is celebrated among soundsystem communities the world over, its future rests on music culture maintaining the genre's recent surge in momentum. Producers like Tyler Hawkinson aka NECROMANCER are leading the way.
"The history of DnB is what really got me so involved in the genre; it's rich in culture and has a bpm range unlike any other, with a timeless sound that never gets old," says NECROMANCER. "Coming from the deep-rooted sounds of Jamaica and having swept across London, this genre embodies a full sound of heavy bass and percussion that just doesn't quit."
Based in Minneapolis, NECROMANCER is a veteran to the electronic scene, frequently mixing and producing DnB for local and regional crowds. His daytime set at the Pyramid Stage during the 2021 Infrasound Festival engulfed listeners in thick, earth-shattering drumlines to remember. NECROMANCER recalls being struck by one transformative festival set in particular a couple years back.
"I always play a bit of DnB in all my sets. In 2019, I got to play a lot of DnB at the Even Further Festival. I also had no idea that I was about to get my mind blown in the audience as well," explains NECROMANCER. "I got to see the amazing Rey Keith rip a 2-hour set. It changed my life forever."
Keen on community education in the electronic music scene, NECROMANCER holds the history, present, and future of DnB in high regard. He draws artistic inspiration from legends who have shaped and evolved the dynamic genre, namely Joe Nice, Mala, Goth-Trad, Ray Keith, DJrum, Alix Perez, Skeptical, Goldie, D-Bridge, Mister Shifter, J:Kenzo, and the Subsequential crew.
"It's hard to pinpoint one area or person, but there have been so many people that push me to dig deeper," says NECROMANCER.
Collectives like Background Noise and American Grime (AG) stand true in a shared vision to bring the promising future of DnB into the fold. In the sixth and final episode of the ongoing podcast series AG Presents: DnB, NECROMANCER unleashes a carefully curated half-hour mix for the masses. This producer's passion for DnB's past and his optimism for the genre's future shines through the mix's uniquely imaginative take on what it means for musicians to dream.
"I hope to show a variety of sounds from this genre. There's a little bit of something in there for every different person passionate about bass music culture. This mix hits a lot of my favorites," says NECROMANCER. "From the smooth jungle and liquid bits to the Heavy Rollers and Jump Up, I try to give each track room to breathe and reveal it's full self to the listener."
NECROMANCER believes the future of DnB is bright. He credits AG for illuminating this timeless genre through the power of podcasts and for working diligently to keep the drumline light aflame.
"One thing that draws me to the AG crew is how they are bringing proper attention to the grime and DnB scene here in the U.S.," says NECROMANCER. "I hope to help do the same."