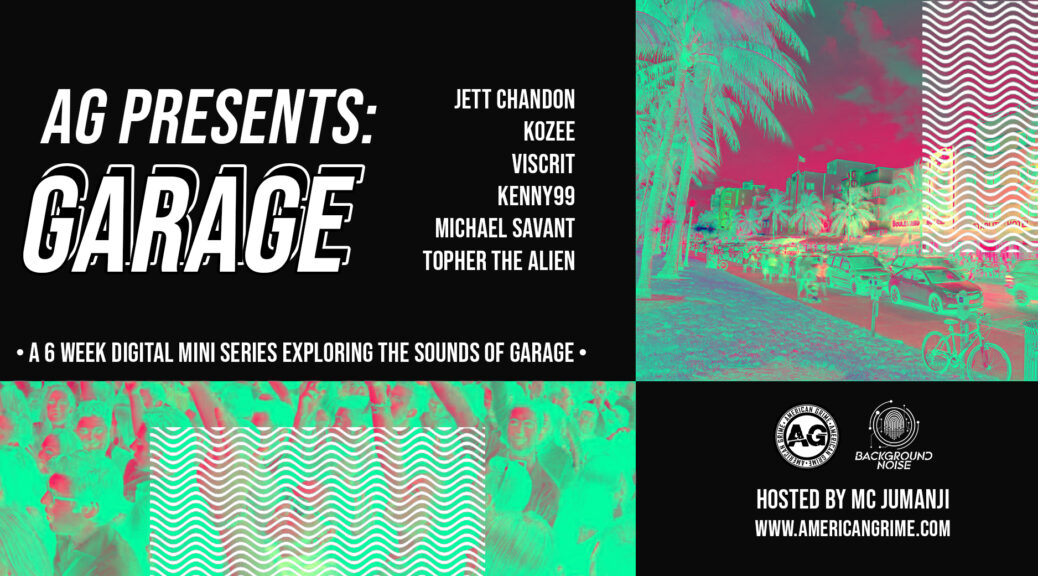 AG Presents: Garage – Jett Chandon
AG Presents: Garage – Jett Chandon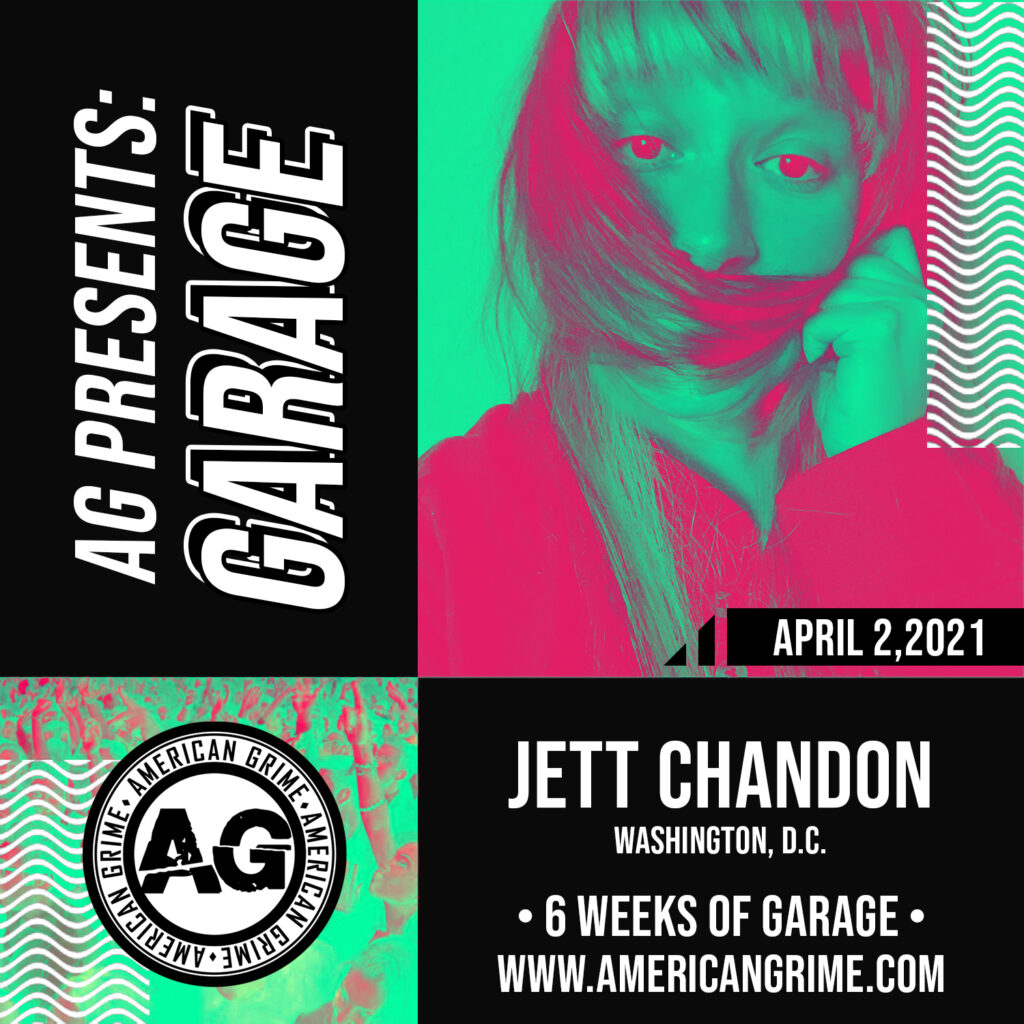 Jett Delivers Empowering Garage Mix, Merging Mental Health Hurdles with Women's Liberation in Music
By Jimmy O'Hara & Sarah Styles
From childhood to adolescence, Tara Algios aka Jett studied music theory and multiple mediums, cultivating a lifelong passion for mixing and sound design. By early adulthood, however, mental health challenges interrupted Jett's commitment to music. Stuck in an unhealthy undergraduate environment, she gradually paused her passion for production and live performance.
A new city paired with a vibrant underground community helped rejuvenate Jett's innate knack for creativity and sound. It wasn't until this major life transition that Jett truly uncovered garage music, the genre she credits with saving her life.
"While I was living in New York, I eventually found myself lost without creating or performing. I was in such a place of darkness," recalls Jett, native to the Big Apple.
"So in 2011, I packed my bags and moved to Washington, D.C., where I discovered the city's devoted underground scene. This transition brought me back to life and inspired me to perform again."
Returning to performance encouraged Jett to dig deeper beyond the evolving dubstep sounds popularized at the turn of the decade. During the early 2010s, alongside brostep and other descendents of UKG, an appreciation for future garage emerged in many circles. Jett began exploring this modern version of the legendary 90s genre, captivated by its playful sound and pivotal lineage.
"Garage is an incredibly fascinating sound on its own, pulling from nearly all areas within the music realm. I came across iconic tracks by artists who originated the genre. I was hooked," says Jett, whose American Grime (AG)Presents: Garage guest-mix marks episode #4 in the collective's ongoing podcast mini-series.
"My deep connection with garage music encouraged me to share it with everyone I possibly could. It's an unexplainable love. I owe my life and my career to garage music. Without it, I probably wouldn't be here today."
Championing the garage genre opened career opportunities for Jett that may otherwise have been inaccessible. Overt and covert forms of sexism and gender bias are prevalent in and beyond the electronic music industry. Introducing new audiences to the unique sounds of garage brought Jett equally unique chances to challenge gendered status quos.
"Garage opened up so many doors for me and others, especially since so few people were playing it," says Jett, renowned for hosting D.C. functions focused on reviving garage music and centering female artists.
Many women were central to pioneering garage music and continue to elevate the sound in modern eras. Ms. Dynamite, Sweet Female Attitude, Katy B, Colour Girl, Kele Le Roc and AlunaGeorge reflect a few of many female leaders at the forefront of garage's rich legacy.
Jett's AG: Presents guest-mix this week honors the bold women who helped bring garage into the fold. Jett also draws artistic influence from the eclectic sounds of Burial, whose groundbreaking album Untrue (2007 )still helps her manage depression today.
Personal healing and community-building have always been at the core of Jett's craft. DJ-ing for nearly a decade, her mixes have naturally evolved to blend a broader variety of styles.
However, remaining true to her garage roots keeps her heart grounded and her audiences grooving.
"The local D.C. community has always been a motivation for me to push forward," says Jett, having worked with Forecast and Spreadlove Project, among other organizations. She's also gained extensive experience as a resident DJ for the UKG Social in Baltimore.
Jett hopes that AG Presents: Garage will pique broader interest in the genre, especially from current bass music fans.
"The deeper purpose of American Grime's podcast series is to connect people from all over who share the same passion for music, especially during these unprecedented times when we need it the most," explains Jett. "Garage is the celebration of life and I've always linked it to joy and happiness. This podcast highlights how this genre is exactly what we need to heal together."
Audio Analysis
The electronic music community has a multitude of strengths. However, one drawback that often arises is our collective memory tends to erase the genesis of genres and the pioneers who led (and are leading) the way. Black and Brown communities, women, and LGBTQ+ people have always been central to creating and contributing to novel sounds and event spaces. Despite this truth, disparities in representation, power, and recognition exist across music scenes, particularly for women at every level.
Jett's mix effortlessly hints at these industry inequities, especially through a gender lens.
Given the global reach of garage music, it's important to honor the impact of women who
contributed to its origins, growth and success. While it's true UK garage wasn't solely about women vocalists, many listeners are drawn to feminine voices in garage and, more broadly, electronic music.
Jett's clever inclusion of such voices throughout her mix celebrates women
everywhere. Her soulful variety of samples are sure to have you turning the volume all the way up.
Soothing and inviting yet bold and unapologetic feminine voices sing over a 2-step beat
throughout Jett's 30-minute mosaic. Her mix portrays a peculiar innocence, intrigued by and invested in love– a liberating kind of soul music with unforgettable flair. Jett features old-school gems that remain in rotation today, accompanied by an undeniable R&B presence, one of garage's ancestors.
Additionally, she includes a rapid-fire style of MCing derived from dancehall. More often than not, women's voices enrich Jett's half-hour mix. She serves up some syrupy vocal overlays, filling your heart with nutritious garage goodness while encouraging women to reclaim space and enjoy a seat at the table.
Next Up
Stay tuned for the fifth guest-mix in American Grime's podcast scheduled for release Friday, April 9, featuring Kozee.
Each week, be sure to travel back to our Background Noise newsroom for commentary and more. Throughout this six-week journey, our editorial team will cover each installment, exploring the complex and nostalgic sounds of garage music right along with you.