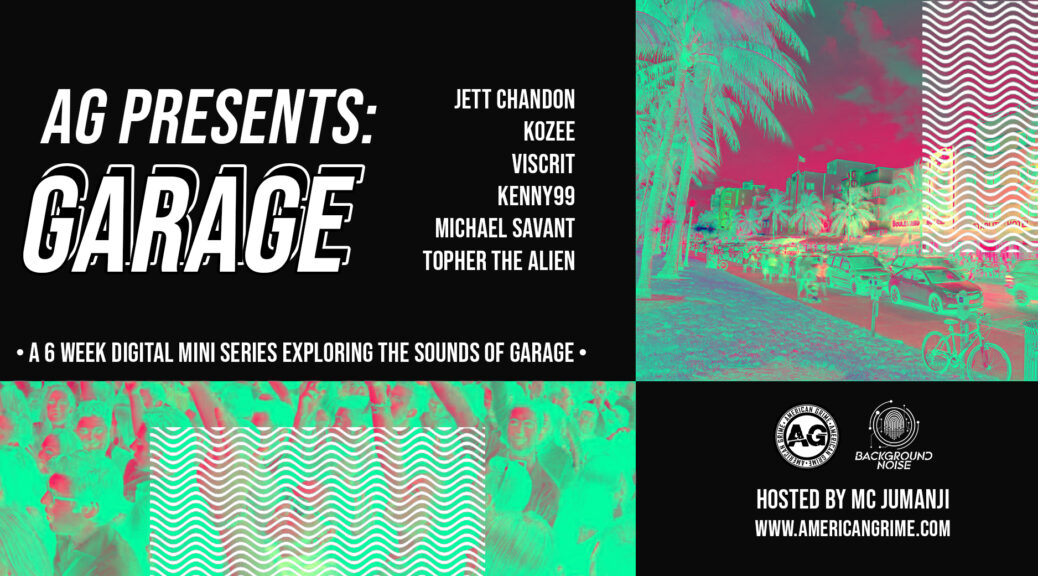 AG Presents: Garage – Topher the Alien
AG Presents: Garage – Topher the Alien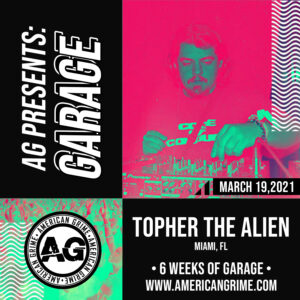 Topher The Alien Pays Tribute to Ancestors
and Descendents of Garage Through Dynamic Podcast
By Jimmy O'Hara & Sarah Styles
One way to envision garage's role in the evolution of electronic music: Imagine it's the trunk of a family tree. Grounding the genre are its animated, extraverted roots: the likes of house, jungle, breakbeat and R&B. Branching out from the trunk are its inward, layered leaves: 2-step, UK funky, dubstep and grime. In this week's episode of American Grime (AG) Presents: Garage, disc jockey Topher The Alien (Topher) honors garage's ancestors and descendants.
"I've always held garage close to my heart due to its hypnotic rhythms and heavy bass," says Topher. "There's no other genre quite like it."
Garage has always been an inflection point in electronic culture past and present. Renowned for its emotionally-riveting atmospheres, garage music disarms listeners with its dreamy sense of nostalgia. Like the center of an hourglass, the genre is pivotal, seamlessly flowing the sounds of old into the rhythms of new.
"I consider garage to be the perfect, danceable midpoint between house and dubstep," explains Topher. "Without this overlooked genre, we wouldn't have a lot of the dubstep and bass music we know and love today."
If house is the social older sibling and dubstep is the popular younger sibling, garage is the mysterious cousin caught in the middle. The genre's relative lack of recognition in mainstream spaces may trace back to its triumphant origins within the imaginative minds of marginalized communities. The genre arose at the intersection of Black and Queer lived experiences in a post-Stonewall '70s & '80s U.S. struck by racist redlining and an ongoing HIV/AIDS epidemic.
Garage serves as a safe space for artists to reimagine life beyond oppressive structures by experimenting with original sounds. This reflects AG's mission-driven approach to modern bass music. AG champions various forms of grime while giving ode to its garage-driven stylistic and cultural origins. The internationally-acclaimed collective is pursuing its six-week podcast sequence to trace garage's historical significance and celebrate its ongoing transformation.
Through his AG Presents: Garage guest-mix, Topher aims to inspire today's electronic communities to develop a deeper connection with garage.
"I hope some new ears in the U.S. and abroad will appreciate the beauty of garage through this mix series," says Topher, whose episode marks the second installment in AG's mini-series. "Hopefully, more bass music fans will be open to hearing it on dance floors when events and festivals return."
Stay tuned for the third guest-mix in American Grime's mini-series scheduled for release Friday, March 26 featuring Viscrit.
Each week, be sure to travel back to our Background Noise newsroom for commentary and more. Throughout this six-week journey, our editorial team will cover each installment, exploring the complex and nostalgic sounds of garage music right along with you.