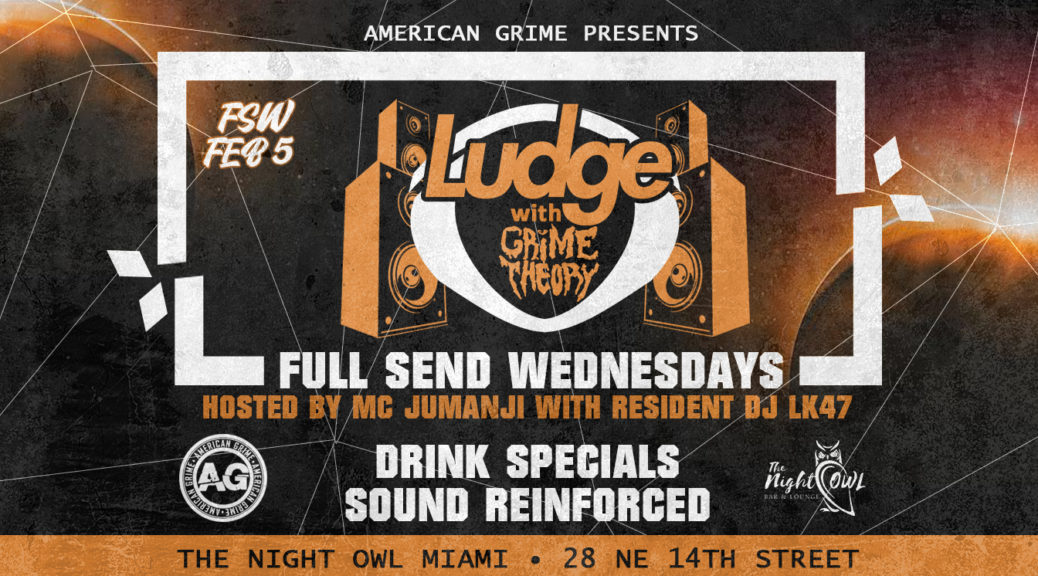 EVENT: Feb 5 – FSW ft Ludge & Grime Theory
EVENT: Feb 5 – FSW ft Ludge & Grime Theory
AmericanGrime presents Full Send Wednesdays, a night dedicated to underground bass music.
From the time you enter the venue, you are brought into the AG vibe, starting with our front room which hosts a PS4 and games such as Madden, FIFA and Call of Duty: Zombies.
Step into our main room where we boast up to 8 subs worth of shaking bass power. Hear anything from Grime, to dubstep, to drum and bass and beyond. Genres have no boundaries at the famed Night Owl.
Our full liquor bar is stocked with your favorites at an affordable price and the dark room gives the perfect ambiance to let loose in.
Stroll to our back patio where we have a collection of bar games and table seating. The music is piped in to the patio so you wont miss any of the action!
We open doors at 9p and keep the party going until 3 in the morning. Lets see who can really full send it on a Wednesday?
Full Send Wednesdays
February 5, 2020
featuring:
LUDGE
GRIME THEORY
Skoom
Ajna
Resident DJ: LK47
Hosted By: MC Jumanji
#FullSendWednesdays #AmericanGrime #Dubstep #grime