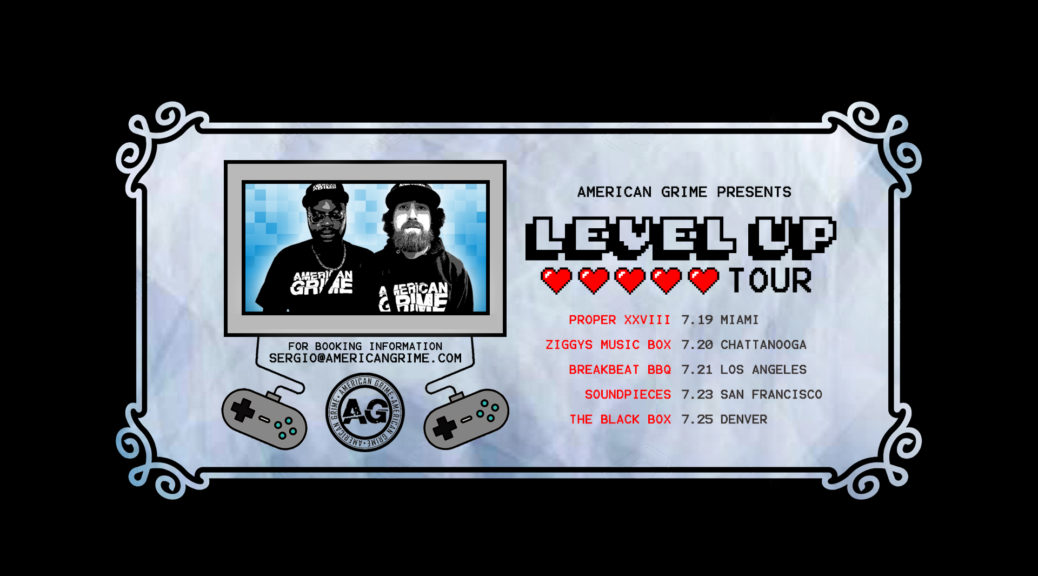 American Grime announces the Level Up Tour
American Grime announces the Level Up Tour
Here at American Grime, we are proud to announce that we're on the road again for the Level Up Tour to splash the scene with some energy. Join us as we take on 5 cities in 7 days..
Miami, Chattanooga, Los Angeles, San Francisco and Denver are in for a beating as Timbo Slice ad MC Jumanji team up for a run you don't want to miss!!!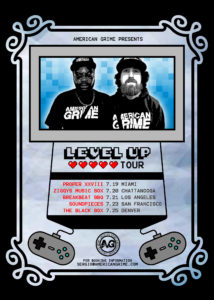 ___________________________________
Want us in your city? Tell a local promoter and get us out there.
This is #AmericanGrime
In comes American Grime, a record label and collective of stateside artists who are undoubtedly in the middle of one of their biggest years to date. Having just announced their slots at Outlook Music Festival, one of the biggest bass music festivals in the world, they are ready to take over a city near you. The label consists of a core of artists that tour and the other members handle production and engineering, as well as an entire entourage of supporting artist including DJ's, MC's and producers from all over the USA and Canada.
Timbo Slice is the poster-boy for putting in work and getting it done. What he has accomplished in his time behind the decks is nothing short of impressive. Timbo Slice brings a raw energy to the show that is hard to put into words. His precision mixes and refined selection of both classic dubplates and current heaters like it's second nature, because for him, it is. He knows his history and has been rewarded by sharing stages and back-to-backs with trailblazers like N Type, Compa, Foreign Beggars and Faze Miyake. Expect big things from Timbo Slice, he truly is a man on a mission.
MC Jumanji, fresh off of a UK Radio tour, he and his have covered KissFM with Rudekid, Rinse.fm with Marcus Nasty, BBC 1Xtra with Sir Spyro, Mode.fm, Westside radio and Reprezent Radio. He's also been on Sub.FM live with LOST, Joe Nice and Compa. He has songs with Grim Sickers, Shiverz, 12th Planet, Foreign Beggars, Dayzero, Colt Cuts, Cotti and more. With growing support from the likes of UK legends such as RiskyRoadz, Grime Report owner Lordie, and American powerhouse Sub.mission, Jumanji has accelerated his push of the genre. Now, after being named Miami's Best Hip Hop Act of 2019 by the Miami New Times, and with Outlook Festival ahead, Jumanji takes aim at 2019, driven by his passion to see American Grime rise.
For booking information: Sergio@AmericanGrime.com