What is Grime – Disciples v1 Album Review by DiS_1
What is Grime – Disciples v1 Album Review by DiS_1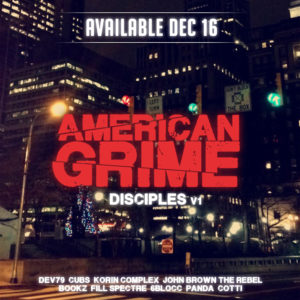 What is Grime?
So many music lovers across the country have both asked, and answered this question over the last few years, as UK MC's have been coming "Across The Pond" to perform for US crowds. In doing so, these artists have started a movement that has gained momentum and is now at the cusp of a full on US takeover. Grime, simply put, is a genre of music that emerged in London in the early 2000s and is primarily a development of UK garage and jungle with an MC spitting half time over it. However, that description is fairly basic. As the years have passed, since Dizzee Rascal caught the ears of NYC MCs in 2002 and 2003, Grime itself has evolved. With artists such as Sir Spyro, Stormzy, Wiley, Kahn, Neek, T Man, and many others taking the sound and making it their own, Grime has become so big, and goes well with so many other genres, that DJs across the world are working various forms of it into their sets. As a result, Grime has taken root here in America. One artist has taken it upon himself to establish a label and showcase the US Grime artists that have been paying dues and pushing the sound stateside. Calvin Cyrus, better known as MC Jumanji, has been at the forefront of the American Grime movement and has single handedly pushed the sound to bigger spaces with his own releases, as well as the "Oh My Grime" nights in Miami. Having put out a number of releases himself, this American Grime release is different because it is not a Jumanji release, but an American Grime release consisting of nine tunes from various artists across the spectrum of bass music. Each artist has fully immersed themselves into the Grime sound and each artist has come up with a tune which they believe represents their sound within the realm of Grime
From the start of this album, the beats come out swinging hard. 6Blocc's "Armageddon" is dark and bass heavy with murky snares, subtle high hats and blank space that comes back with a drop (for lack of a better term) that grabs you by the chest. Bookz' "Lurker Riddim" has a nice flow with the string section sample, only to hit you with a womping bass line reminiscent of 2009 style dubstep. Cotti comes in tough with "Ucking Wid Us", a tune that starts as a traditional Grime beat with a hint of dancehall, but flips to a trap style beat at the break, catching us all off-guard and making us throw our hands up. Riddim boss, Cubs, steps out of his typical sound to give us "Fury", a seriously dark sounding tune with heavy bass lines and fat percussion that gives it an "eyes down, head nod" vibe. Dev79's "Grim Lord" is a percussion and synth driven tune that takes every sound within it and disperses it so perfectly that it almost sounds like a minimal bass music track (if it weren't for that slamming percussion). Fill Spectre's "Lost" almost sounds like two tunes within one. It starts with a build-up that could stand alone as its own song, with its fat kicks and snares and high wobbling synth that compliments the bass line too perfectly. Then, suddenly, it drops to a bass heavy tune with an almost "breaks" like beat and deeper synths that sound seriously mean. John Brown The Rebel answers with "Qrazy Train", a traditional sounding Grime tune in a sense that it is all bass line, synth and snare with kicks added to the break for a 'one, two' punch like beat, that Grime enthusiasts love so much. Korin Complex's "Warlock" is similar, but instead of switching up to the 'one, two' punch altogether, it has an element of the 140 kick and snare layered over it, forcing you to listen to two perfectly matched beats at once. Panda finishes it with "Deadline", a very traditional sounding Grime tune that MC's around the world will be wanting to flex their skills on.
This release is a serious statement and a massive step forward for Grime in America. With artists that span the spectrum of bass music putting their hats into the Grime ring, who knows where Grime in the US will go, and where it will take all of us who are here for the ride. As more fans and DJs are exposed to the sound, like dubstep in the US in 2006, its only going to move forward and evolve from here. Never the less, we have to give credit where credit is due, and with that said, we want to say big up to MC Jumanji for all his tireless efforts to continue to push Grime in America. American Grime is here, it's a force to be reckoned with and it's not going anywhere anytime soon.
DiS_1, Sub.Mission, Denver, CO